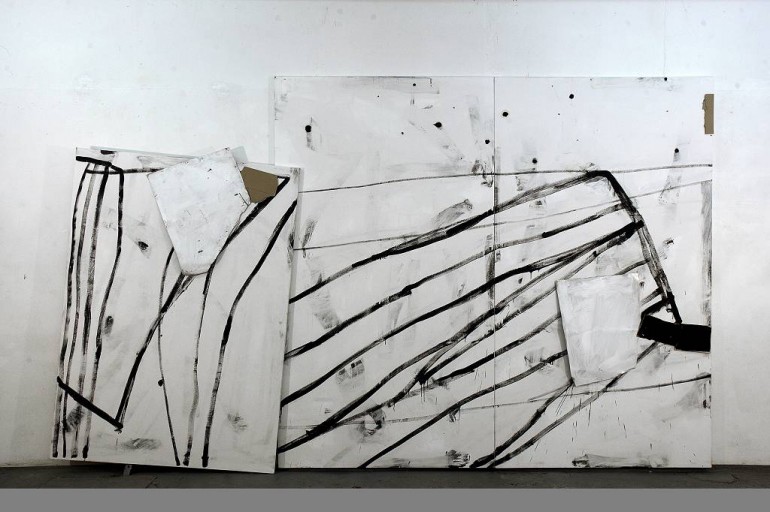 Gravity
November 28, 2008
Opening: 27.11.2008, 6.00 pm
28.11.2008 – 9.01.2009
Curated by Jaromir Jedliński
Now at the Foksal Gallery Marek Szczęsny presents his cycle of paintings entitled Gravitation, which came into being in recent years. The artist's desire is to catch the phenomenon of imaging in his pictures, trying to reach to the very essence of visual cognition. With it, each element gets an unusual importance, building the tension between our eye and the form of a work of art, what isn't closed only within the framework of the pictorial plane. Both the arrangement of individual works in the gallery hall and rooms and the mutual distances between the works, which are determined with the whiteness of the walls, are important. The same concerns the very dimensions of them, which are forcing us to commune with them very closely. The title 'gravitation' is making relative the traditional relations between the artist's and the viewer's world. As Jaromir Jedliński wrote in the catalogue, It is worth making an attempt to reconstruct the sequence of decisions, movements and actions of the painter, which he had to make while constructing his multi-element exhibition with its specific inter-pictorial space. Such reconstructions of the painter's actions seem to be our proper reaction for the images that are presented to us.
Szczęsny's creation is characterised by the consistency of developed actions which are concentrated in an almost classical formula of painting. The artist unusually trusts in the autonomy and future of image, believing that,  This kind of plane will have been always appearing in front of the man, which he can treat only in painting terms.
In his Gravitation we can find also references to the tradition of abstractive painting, which – expressing the creator's emotions in an uncontrolled way – is liberating what's unconscious in him. For, as Marek Szczęsny says, What's contained in art, I mean that cosmic element, has to be something exceptionally moving, and not only a speculation.
Marek Szczęsny was born in 1939 in Radom. He is a painter, printmaker, stage designer, and a grant holder of the Edward Albee Foundation and the Adolph & Esther Gottlieb Foundation. Since 1978 he has lived and created in Paris, but at present he divides his time, stay and work between Paris and Cracow. He had numerous solo exhibitions in Paris, Toulon, Geneva, Zurich, and New York. He debuted in 1967 in Poland, showing his works at the 'Żak' students' club in Gdańsk. In the seventies he managed to present his painting achievements at the Pegaz Gallery in Zakopane and at a few group exhibitions. Then the Polish audience had to wait over 20 years for another meeting with Szczęsny's art. His works have been shown at last as a solo exhibition at the Kordegarda Gallery in Warsaw in 1997 and at the National Museum in Poznań in 2003.