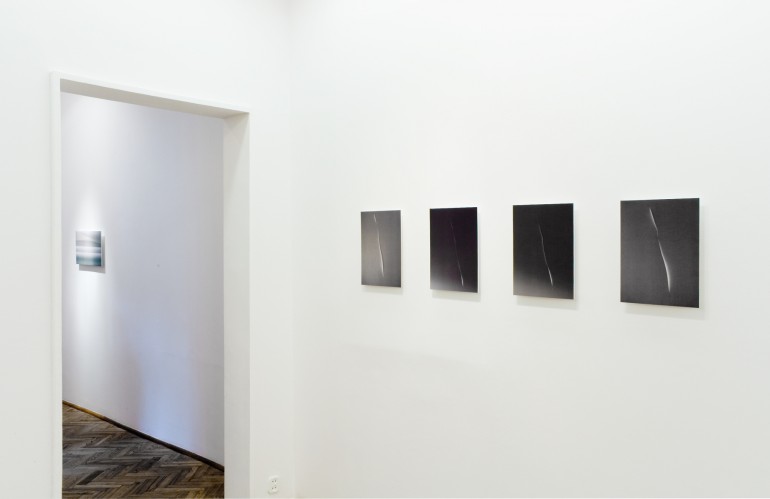 Sunlight Drawings for Arvo Part
September 26, 2006
Opening: 26.09.2006, 6.00 pm
27.09.2006 – 31.10.2006
Sunlight Drawings for Arvo Pärt
It is so good that we can feel delight, it is enough to hear (sound), it is enough to see (light).
Le Corbusier said:
The key is Light
Light generates shapes
And shapes have emotional power.
Although he said that relating to the method of architectural design, this observation also relates to our perception in a much broader spectrum of experience.
Instead of distinguishing individual fields, we should note that they meet in different configurations, this also applies to methods of creation.
Arvo Pärt, to whom I dedicate this exhibition, prior to a major discovery, used to have long periods of silence, which have been a time to contemplate and make laborious research. His works have become timeless. One of the records with 16th c. organ music* features several compositions by Arvo Pärt, which combine extremely well with works composed hundreds of years ago and flow smoothly from minimalist atmosphere with space of silence into works by John Redford composed in early 16th c.
Arvo Pärt's attitude towards human voice differs from traditional approach; the sound of an instrument imitates human voice and not vice versa. When I studied singing, my teacher usually sat at a piano, stroke a key and said: sing like that… And if we think about this experience from a different perspective, imitating human voice brings an infinite diversity. Repeating the interpretations of one note is essential in the works of the composer. This is how the recording of the work Spiegel im Spiegel has been made. Its composition is based on the rule of the mirror and the use of a simple scale. It would seem that this work is so easy that it can be performed by students learning to play an instrument. However, contrary to appearances, it is quite the opposite. The artistry of the interpretation of a single note, apart from sensitivity, requires skill, which describes` the quote below;
A composition comes as a single gesture which is already, in essence, music.
In another statement, the composer has continued the thought by saying: Here I am alone with silence. I have discovered that it is enough when a single note is beautifully played. This one note, or a silent beat, or a moment of silence, comforts me.
Endless movement of sound, symmetry and the use of silence are important elements of Arvo Pärt's music. How do you play a silence? Sometimes silence is vast. It takes on significance depending on how you approach and go away from it. Try to imagine the sound of a bell that resounds until the very end. Your sense of hearing will never perceive the moment when the vibration ends and goes into the silence zone, which forms an infinite space.
When you observe the merger of individual fields, you can look at the space from the perspective of a music composition, which is very close to visual perception. Paul Hillier describes a meeting with Arvo Pärt when working on the work entitled Miserere, during which he speaks about moving into visual sphere; He has shown me the work's physical portrait – the illustrated scheme – and proceed to recreate portions of it at the piano, playing not like a pianist, but rather like a sculptor, hewing vocal and instrumental sound out of this most unlikely box of wires and hammers. Somehow this allowed me to hear the final work perfectly clearly – and I was reminded of Pärt learning as a child to create his own universe of sounds on the broken grand piano in his home.
Finding your individual means of expression is extremely important to an artist as it stands for authenticity of expression. Drawings, which I dedicate to the composer, are the observations of light filtered through a single gesture. Sometimes the same single line is lit by the sun differently at different times of the day. At such times, I think of a single note played out in infinite possibilities of interpretation.
The phenomenon of moving projection of sunlight is so obvious in our daily life that we do not pay attention to it. The same is true about fallen parts of trees, usually removed by forest keepers as useless objects. When I had been placing them in art galleries – in new surroundings, the audience has started to see their unique beauty. They have suddenly discovered that the disintegration of the matter may be a striking stage of the cycle of nature.
Similarly like Arvo Pärt, I go through the stages of pondering and laborious research before I find true reasons for artistic expression. For many years, prior to making the first sculpture with the use of fragments of fallen trees, I have observed nature. It was at that point that I discovered how silence is manifested in my works. Silence is the need of a vast space around a single gesture.
Light is the origin of everything.
Is light in my drawings an aesthetic, physical or photographic (camera obscura) phenomenon? Does it reveal an object or its surroundings?
As drawings, they are architectonic models and instruments for observing light.
Object or line? Maybe simply ephemeral light of a unique moment?
I compare the contemplation of music by Arvo Pärt to the contemplation of light.
Joanna Przybyła
Joanna Przybyła, born 1959 in Raciborz. 1979-84 – Studied at Academy of Fine Arts in Poznan. Selected solo exhibitions: National Gallery Zacheta, Warsaw; Sculpture Center, New York; Yorkshire Sculpture Park, Great Britain; Richard Demarco Gallery, Edinburgh; Krzysztofory Gallery, Cracow. Selected group exhibitions: Kunstmuseum Dusseldorf; National Museum, Poznan; Center for Contemporary Art – Ujazdowski Castle, Warsaw; National Gallery Zacheta, Warsaw;  Grassimuseum, Leipzig; Bochum Museum; Ernst Museum, Budapest. Works in the public collections: International Sculpture Center, Washington D.C.; Kunstmuseum, Dusseldorf; National Museum, Poznan; National Gallery Zacheta, Warsaw; Kunsthalle, Manheim; Museum of Art, Lodz. Lectures at  high schools in Europe and USA: The Royal Academy of Arts i Central St. Martin School of Fine Art, London; Parsons School of Design, New York; Rhode Island School of Design, Providence, NY. Creates sculptures, drawings, collages / Katedra – Cathedral, Horizon – Center of the World – Horizon, Homage a Piet Mondrian /. Works on common project with architects ( Raviv Ganchrow, Capsule; Claudio Silvestrin, Raum ).