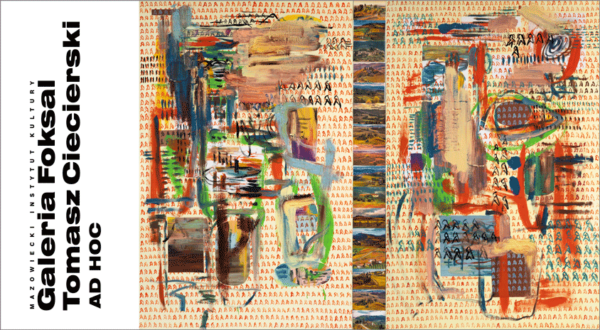 Tomasz Ciecierski | AD HOC
Opening: Friday, February 3rd, 2023, 6 pm,
Exhibition open from February 4th, till March 18th, 2023
Curator: Lech Stangret
Galeria Foksal proudly presents paintings and collages made in 2022 by Tomasz Ciecierski, one of the most eminent Polish contemporary painters. Most of the works will have their premiere during this exhibition. Tomasz Ciecierski, who has been associated with Galeria Foksal for many years, has repeatedly presented his latest works at this venue. Characteristic of Ciecierski's art is the creation of painting cycles which make up a kind of "treatise on painting". His reflections on the art of painting, and above all on the essence of painting as an activity, allow him to constantly review and update this medium. The show of the artist's most recent works is intended to outline the artist's current creative pursuits.
As for the subject matter, we will find in the works on display issues that have preoccupied the artist since the 1990s, such as landscape, architecture or objects from his immediate environment. In the two painting triptychs selected for presentation at Foksal Gallery, the author places photographs in the central, narrow, vertical stripe (in one case these are postcards, and in the other collage-like assemblages of fragments of internal and external architecture), flanked on the sides by painted canvases. In his signature style, Ciecierski creates paintings of multiple images, devoid of a single dominant feature, using for their creation, on equal terms, photography and purely painterly means.
In addition to paintings, in recent years Tomasz Ciecierski has created several series of collages, a set which now comprises several dozen works. From this impressive collection, only a dozen or so have been randomly selected for the exhibition from the series entitled AD HOC. The artist made them by pasting details cut out from photographs or fragments of photographs of everyday objects around him onto a standard A4 sheet of paper. These mundane objects are sometimes so trivial that they often go almost unnoticed. He combined them with cut-out pieces of photographs of things that just happened to catch his eye, newspapers, etc. These collages seem to form a kind of personal archive of the author and the poetics of ordinary things that we use every day and surround ourselves with, triggers a deeper, intellectual and universal reflection.