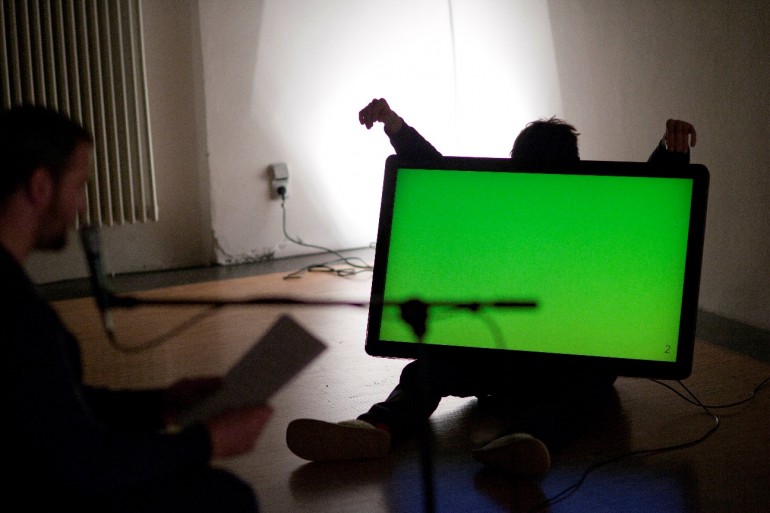 Jabberwocky
March 11, 2014
Opening: 14.03.2014, 6.00 pm
17.03.2014 – 18.04.2014
Curated by Michał Jachuła
Partner: Czech Centre
The exhibition, which presents the work of two Czech artists of very different generations, encompasses four new photomontages with sound by Jiří Skála and Bohdan Mrázek's Jabberwocky, a series of "textile graphics" dating from the 1990s. A fundamental theme in Jiří Skála's art, including the works undertaken for the Foksal exhibition, is work itself and, more precisely, the human being's relationship to various production systems. In presenting Mrázek's works and recalling the art of their creator, who died several years ago, Skála is seeking the narrative strategy best suited to telling a story in the context of contemporary art. He treats this endeavour as his own emancipatory movement. The question of emancipation forms a connection between his works and the art of Bohdan Mrázek.
Jiří Skála himself writes: Bohdan Mrázek's work represents a fascinating method by which, from the nineteen fifties to the nineteen eighties, applied artists, specifically textile artists, endeavoured to liberate themselves from their unequal relationship with those placing orders with them; it is an exemplification of how they strove to become independent of the textile industry. […] Jabberwocky is a work which makes reference to tapestry, but is not tapestry. The name, drawn from Lewis Carroll, alludes to absurd activities which make no sense at all. They exist for themselves and themselves alone. At one and the same time, it is a moment of dreaming. Above all, this particular series of works evokes the time when the purpose of Bohdan Mrázek's artistic production was lost to him. He no longer had reason to try and liberate himself from industrial production, because it had vanished from his environment. It had moved elsewhere, to China or to the countries of South-East Asia. […] How do I try to connect Bohdan Mrázek's work with my own? Some time ago, I came across a manifesto by two Czech artists, Barbora Kleinhampová and Tereza Stejskalová. The title is Sleepers' Manifesto and I was particularly taken by this section: 'Our whole time is colonized by the production and the non-stop presentation of the self. Sleep is the only time when we remain disconnected from technologies, systems of constant production and consumption. The current world runs 24/7.' This is what I see as a key moment in Bohdan Mrázek's emancipation. He was not trying to liberate himself from any particular relationship between the artist and the placer of orders. He was endeavouring to move away from technological civilisation. And sleep is the only way to accomplish this. Sleep is the sole, functional emancipatory technique. Or, perhaps, it is the sole functional ideology which can help us to move away from our technocratic civilisation.
Jiří Skála was born in the town of Sušice in the Czech Republic in 1976. He lives and works in Prague. In 2009, he was received the Jindřich Chalupecký Award for young artists. He has been a lecturer at the Academy of Fine Arts in Prague since 2010. His works have been exhibited at numerous international exhibitions, including the Tirana Biennale (2001), the Palais de Tokyo (2003), the Prague Biennale (2005, 2009), the UBS Gallery, New York (2008), The Other Tradition exhibition at the Wiels Contemporary Art Centre, Brussels (2010) and the Rzeczy i Ludzie (People and Things) exhibition at Galeria Arsenał, Białystok (2013). Jiří Skála is known for his conceptual actions and works accomplished in social contexts. He is the creator of performance art works, photographs, objects and installations.
Bohdan Mrázek was born in Prague in 1931 and died in that city in 2009. An artist and teacher, he was a professor at the Academy of Fine Arts, Architecture and Design in Prague, the author of numerous solo shows and a participant in a host of prestigious group exhibitions, including the 3rd Lausanne Textiles Biennale (1976), the Stedelijk Museum, Amsterdam (1968) and the 12th São Paulo Biennale (1973). His primary medium of communication was the artistic textile and he experimented with its language, material and technology. He is best known for his monumental tapestries, created since the early nineteen sixties. In his works and teaching alike, he unceasingly strove to step beyond existing formulae, constantly seeking new forms of expression in art.