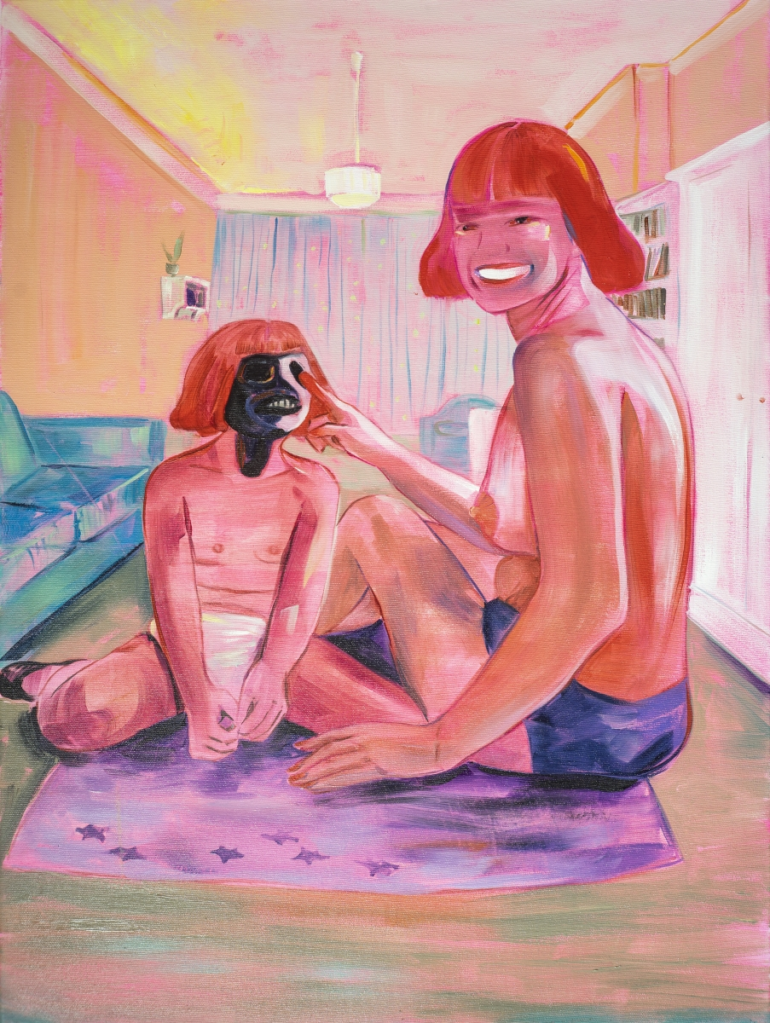 Alex Urban, Mother
April 2, 2022
Opening: Saturday, April 2, 2022, 12 – 22
Exhibition runs April 4 – May 7, 2022
Curator: Katarzyna Krysiak
"Mother" is a collection of paintings created by Alex Urban over the last three years, heavily influenced by her personal experience of motherhood and her reflections on the topic.
The exhibition has been in the works for several months, and all the paintings and sculptures were created before February 24, 2022. In light of the mass migration of women and children from Ukraine to Poland – the result of the continuing Russian aggression on Ukraine – the artist was confronted with a feeling of inadequacy, which is currently experienced by many people. The feeling appears in everything we do, makes our problems and plans seem trivial.
At first, the exhibition was supposed to be a story about unconditional love towards a child, about remorse and guilt, about exhaustion, seeing motherhood as a type of sacrifice or even degradation of a woman, where the child, like a mistletoe plant, coexists with the mother and uses up her energy. With time, as a reaction to events that moved the public opinion in Poland and elsewhere in recent years, new paintings started to emerge with a very different message, some questioning this absolute devotion of the mother to her child, some referring to very recent developments, like the devastating experiences of refugee families stuck on the border between Poland and Belarus. The mother protecting her child at all costs was accompanied by the bad mother, with an empty look in her eyes, black eye sockets, hanging her children on a string, putting a finger in her child's eye. The "bad mother" figure gained new meanings.
The paintings are accompanied by a collection of small sculptures of children's busts, which the artist calls "vampire girls". It is not easy to determine what feelings, actions or circumstances inspired the blood dripping from a child's lips or the little black stone heart.
ALEX URBAN – born 1978, lives and works in Wrocław, Poland. She graduated from the Wrocław Academy of Fine Arts. Her media of choice are painting, sculpture and photography. The artist approaches her themes of corporeality, sexuality and religion with a generous amount of indifference, often making crass references or vulgar jokes. Her works are filled with peculiar characters and phantoms, which prove difficult to interpret. When Urban creates her particular universe, she finds joy in using kitsch and referring to the sacred. She often works with vivid colors, which adds a level of unreality to seemingly banal situations taking place on her canvases. The bright colors, borrowed from the world of pop culture, become toxic in Alex Urban's works. Her art has been shown in many exhibition spaces in Poland and abroad. She collaborates with LETO Gallery in Warsaw.