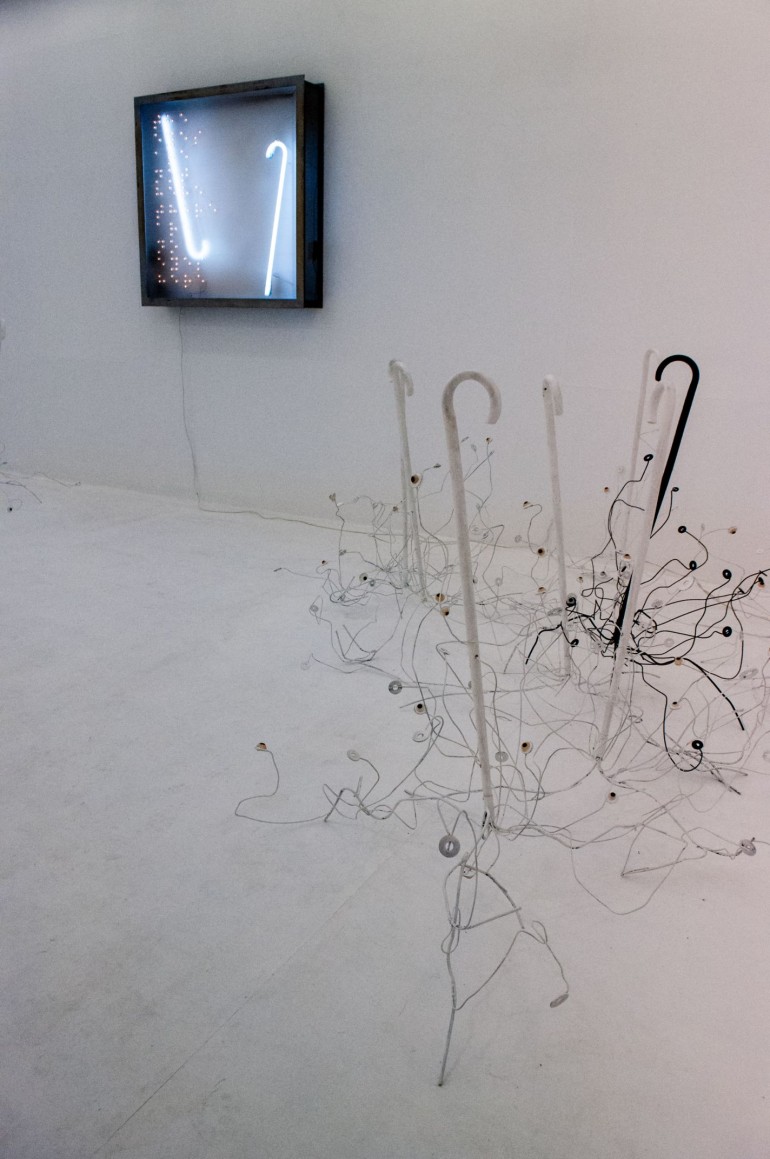 And Still More of the White
April 19, 2012
Opening: 19.04.2012, 6.00 pm
20.04.2012 – 25.05.2012
The newest exhibition by Krzysztof M. Bednarski at Foksal Gallery in Warsaw is entitled  And Still More of the White. With this intriguing installation inside this gallery the artist once again faces the space and history of the place. The room filled by the growing weight of the structure of white canes and twisted like nerves steel wires, some of which is finished with prosthetic glass eyes, the only traces of color amidst the omnipresent white. White sweeps, eliminating the Rother colors: is a sign of blindness, forgetfulness, loss of orientation. Its importance can be interpreted metaphorically, but also specifically in relation to the works of the renowned artist. White appeared in one of his most famous work  in the shell of Moby Dick found along the river's bank – as the critic Waldemar Baraniewski writes in the exhibition catalog  – and in the spilled pigments of the White Passage, and the Oedipus' Cane. Bednarski always creates spaces, with whom he identifies, which are the projections of his emotions, fears and thoughts. Actually he creates sculptures from space, which uniquely combine the perfect sense of form and the internal confusion of emotions. The artist using archetypal motifs tries to define his own sculptural language that allows  a sensual knowledge of art's lands.
Krzysztof M. Bednarski, sculptor, born in Krakow in 1953 and graduate of the Warsaw Academy of Fine Arts, where he studied under professors Jerzy Jarnuszkiewicz and Oskar Hansen from 1973 to 1978, is active in a range of creative disciplines and was at one time closely connected with the paratheatrical experiments of Jerzy Grotowski, for whom he designed posters between 1976 and 1981. He has lived in Rome since 1986, but is also an intense and profound presence on the Polish art scene.
His earlier works, such as Total Portrait of Karl Marx (1978), made reference to communist propaganda, as well as to the socio-political situation during martial law, as seen in his Victoria-Victoria (1983, National Museum in Krakow), for instance. His most widely-know work, Moby Dick (1987), now held in the collection of the Museum of Art in Łódź, has become an icon of Polish sculptural art in the final decade of the 20th century. He created the monument which marks Krzysztof Kieślowski's grave in Warsaw (1997), the Incontro con Federico Fellini monument in Rimini (1994) and La Note Bleue, a monument to Fryderyk Chopin (Vienna, 2010). He holds the Katarzyna Kobro award (Łódź, 2004) and has been awarded the Gold Gloria Artis Medal of Merit to Culture (2011).