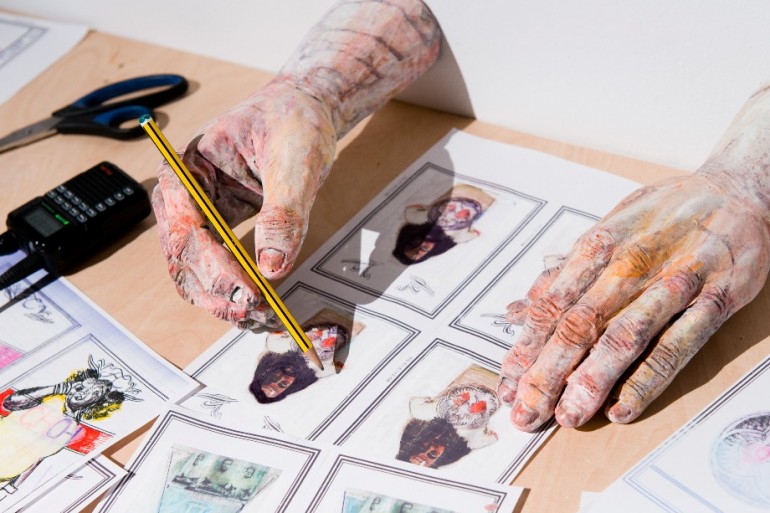 Freedom Club —Trailer
June 6, 2012
Opening: 6.06.2012, 6.00 pm
7.06.2012 – 10.08.2012
Curated by Justyna Wesołowska
Freedom Club – Trailer, Radek Szlaga's exhibition at the Foksal Gallery, is a critical look at culture, history, and Polish tradition and Western consumerism, as well as being an artistic bomb tucked away in the heart of Warsaw. The title of the exhibition is a reference to the story of an American mathematician and terrorist with Polish roots, Ted Kaczyński. Between 1978 and 1995, Kaczyński sent mail bombs to people whom he deemed responsible for technological progress, marking the envelopes with the initials FC, for Freedom Club. His intent was to fight the destruction that advancement brings in its wake. In his opinion, technology is the enemy of freedom, which he understands as the individual responsibility of every human being to satisfy their fundamental needs.
Radek Szlaga transforms the Foksal space into an anarchic film set, complete with potato seedlings under a polythene cloche, moonshine and his compatriots, steeped in the fumes of mash and immersed in illegal doings. Rather like investigative work, his project for the gallery is a web of obscure connections and outwardly distant associations. From word to word, we build a zone of influences, the power of which depends not upon a faithful depiction of realities, but upon suggestiveness and the need for interpretation that slumbers within us. Szlaga evokes the FBI's sweeping investigation of the Kaczyński case in order, once again, to point to the mechanism of manipulation in a field which we wish to associate with logical analysis. In this way, art also becomes a manipulative factor, a field wherein success can be decided by shrewdness and social engineering. The production of moonshine, set in the grey market, from which profits filter through by means of activities that verge upon the illegal, is also a symbol of the circulation of information, changes of medium and a more rapid transformation. This apparently ironic depiction of the global village betrays Szlaga's fascination with human beings, with the strength of their inanity, of their insanity, of their desire to possess, of their desire to rule and, the most dangerous of them all, of their urge to survive. Radek Szlaga never goes so far as to  criticise social systems and behaviour openly, ashamed of the conventionality of the language in which we describe reality. Painting frees him from that risk. It is entirely as if he were less fearful of the critics contempt than of 'society' in the widely understood sense, which, at bottom, he deems to be innocent and defends, even against itself.
Freedom Club – Trailer is a further unveiling of a larger project by Radek Szlaga which is to be continued in a solo exhibition at the Centre for Contemporary Art Ujazdowski Castle in September 2012.
Radek Szlaga was born in 1979 and graduated in painting from the Academy of Fine Arts in Poznań in 2005. Since 2007, he has formed a part of the PENERSTWO group, together with Wojciech Bąkowski, Tomasz Mróz, Konrad Smoleński, Piotr Bosacki, Magdalena Starska and Iza Tarasewicz. He is associated with the Leto Gallery in Warsaw and has taken part in numerous exhibitions both in Poland and abroad, including shows held at the Centre for Contemporary Art Ujazdowski Castle, the Arsenal Gallery in Białystok and Galeria Miejska Arsenał (the City Arsenal Gallery) in Poznań. He took up a residency at New York's ISCP in 2011 and his work was presented at the Frieze Art Fair in that city by the Leto Gallery in April 2012.