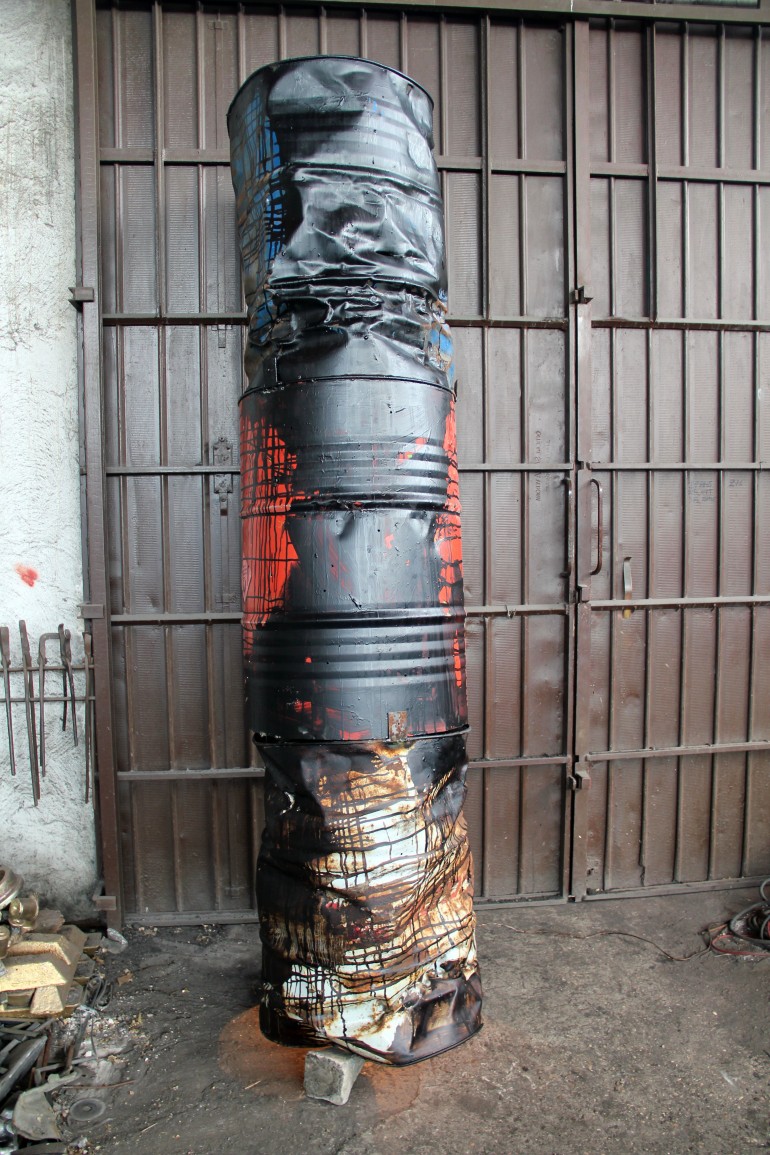 A PLACE. Scene 2. Krzysztof M. Bednarski, Marek Chlanda, Tomasz Ciecierski.
April 15, 2016
Opening: 15.04.2016, 6pm
Exhibition runs till 14.05.2016
Curator: Lech Stangret
During fifty years of Galeria Foksal's history, designates of "place" and "gallery" were never ultimatively defined, despite extensive character bestowed upon them in theoretical writings of the critics connected to Foksal. After all, it was impossible to define them in such way, since transgression of the 20th century avantgarde demanded notions and ideas to be constantly redefined. Successive attempts to justify the Gallery's activity led Foksal's theoreticians to solutions whose degree of radicalism was corresponding to the changes occurring in the outer art world. It was postulated to close the Gallery down, or to have its role taken over by the Living Archive. Voices demanding the "place" to be liquidated altogether, or to have its principles of functioning reformulated, came both from within the Gallery, from the critics that identified themselves with Foksal, and from outside, from communist party ideologues and various opponents. There can be no doubt that those crises contributed to the Gallery's history, as they still do today.
In a contemporary 21st century world, when art has finally transgressed all of its borders demarcated in the old days, when attempts to define art were given up, or so many alternative descriptions were created that it's impossible to find an unitary solution due to so many antinomies surfacing, when art gradually dissolves in a multitude of political, social and moral discourses, asking a question about "place" seems equally anachronistic and legitimate. After all, art is everywhere around us. Art is for everyone and everyone can create art. Simultaneously, access to art is quite simple so everyone can find her/his suitable model of experience and contact with it. In such a perspective, "place" can be one of possible proposals of experiencing art, but also a certain alternative for an art world enmeshed in a commercial play of gallerists and dealers. Even more so, when it is a "unselfishly" independent place, saturated with its own history and tradition.
Today, as we observe vanishing of former stiff divisions, when curators are not infrequently critics, artists become curators and critics, while curators take over roles played back then by the artists, "employing" their works to prove certain thesis, or attempting to construct new intellectual entity, it is the artists themselves that are asked the question concerning "place". What is "place" for them and their art? Possible answers can be quite varied, sometimes not referring to the "place" associated with Galeria Foksal. Here, we would like to emphasize factor which is quite adequate in Foksal's context, that is – cooperation between artists and curators in creation of the exhibition. It is interesting to recall a following declaration, made by the founders of the Gallery in a catalogue that inaugurated its activity: "Gallery wants to grant all invited artists maximum of freedom in arranging their presentations". In each of successive "Scenes", final effect of the presentation and its message is constructed through artists' and curator's common activity.
We do not expect definitive and unequivocal responses to the question on "place" from artists, critics and spectators, since such an answer is clearly impossible in face of mutability of art itself.
In a second presentation of the exhibition mini-cycle referring to the topicality of "place", Krzysztof. M. Bednarski, Marek Chlanda and Tomasz Ciecierski will show their works. "Scene II" covers works realized in various forms, modes and types of artistic matter, and selected by the artists themselves.
The project was made possible by the suport of City of Warsaw