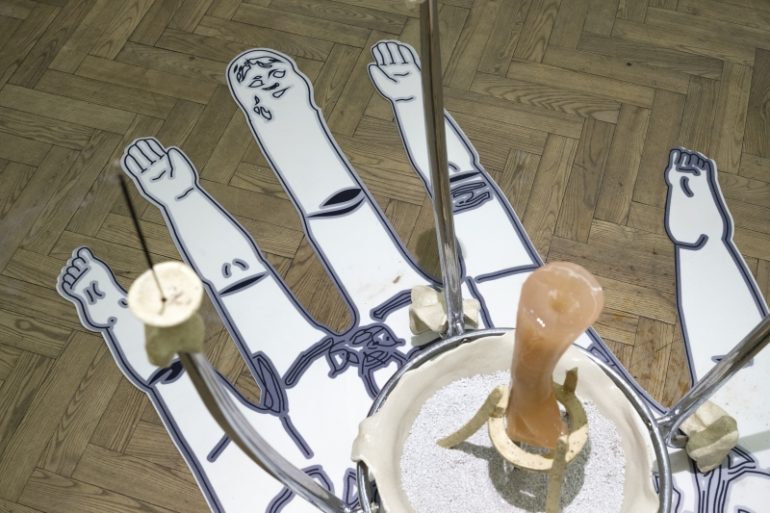 Norbert Delman, S.P.A.
February 1, 2019
Opening: Friday, February 1, 2019, 6pm
Exhibition runs: 4.02. – 22.03. 2019
Curator: Katarzyna Krysiak
In his artistic practice Norbert Delman examines the reaction and expression of the body caused by the oppressive and invasive environment associated not only with public space, but with the virtual one as well. He looks for relationships and mechanisms that influence our decisions related to appearance, health or physical identity.
For the time of Norbert Delman's exhibition, the space of Galeria Foksal will be changed into a wellness salon. In his work, the artist refers to many visual keys associated with spa culture, acupuncture, Korean Su Jok or Chinese Gua Sha. The spa salon created inside the gallery is to become a place where the body, being subjected to cleansing massages, will be able to free itself from the burden of relationships in space, to enter a trance. Ultimately, the aims of this massage-trance-exhibition are to loosen the massaged person and remove the pain created by nurturing traumas or fetishizing ailments, and to allow this person to experience a kind of catharsis. To experience a release from suffering, relieve blocked tension, get rid of suppressed emotions, constricted thoughts and ideas, we sometimes need a stronger stimulus than can be provided by ourselves.
According to the artist, Polish society is blocked. Energy had ceased to flow freely through it and instead it channelled itself inside, creating outbreaks of pain, with which, as a nation, we are unable to cope. Citizens who had been subjected to various influences from – sometimes very radical – ideologies have for some time been manifesting a strong polarization of attitudes. Tension and stress are rising, permanently eliminating from the society one of the fundamental values, namely community. Delman diagnoses that if we do not break the impasse and free the blocked energy, if we do not undergo painful procedures on our own "body" and we do not go out of the comfort zone, we will be left with constant anaesthesia that create the delusion of a lack of problems, to which we will eventually get used to and get stuck in an illusorily comfortable status quo.
The artist succumbs to painful body-cleansing methods, which, through creating inflammatory states, are to lead to the release of accumulated energy. He believes that the contemporary Polish realities have become completely unfavourable for stable functioning and, in an escapist gesture, he is looking for a way to convalesce and free himself. Delman wonders if contact with the work can have a similar relaxing and liberating effect, and whether art in its function can ultimately help cleanse from social tensions.