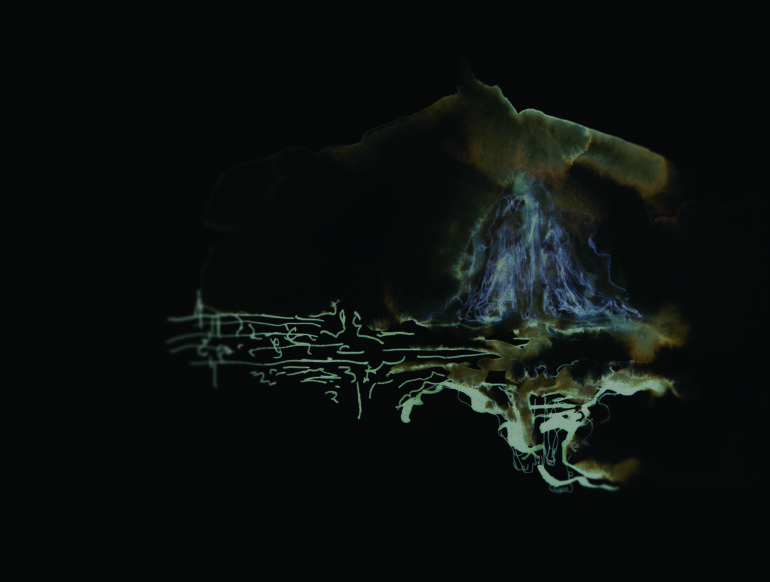 Bianka Rolando, The Keel and the Dolphin
March 29, 2019
Opening: Friday, March 29, 2019, 6pm
Exhibition runs: 1.04. – 18.05. 2019
Visual artist and poet Bianca Rolando's Carina and Delphinus exhibition is closely bound up with the publication of her eighth book, Stelle [Stellae]. The book is a map of the stars which, as a poetic-cum-visual formula, contains verses and graphics. The eponymous Carina and Delphinus are the names of two of the almost one hundred constellations Rolando refers to in the book.
The names are Latin. Delphinus translates as 'dolphin' and Carina is the keel of a boat or ship, the part which both scrapes the bottom and breaks the waves. In book and exhibition alike, a series of photographs documents the process of the creation and disintegration of twelve sculptures formed from wet clay and soft lead, all of them representing dancing figures. The motifs of fragility and disintegration and of recording constant change brings to mind an alchemic quest. As the most vital element of the entire documentation, movement is subjected to choreographic interpretation, which Rolando has recorded in a video format where all that is given us to observe is the dancer's shadow as a fleeting and intensified shape of the memory enclosed in the various configurations.
Delphinus is a series of original prints which, like the eponymous constellation, appear and disappear in different parts of the books. They are combined with spectral calligraphy, its forms reminiscent of letters and rebuses where their original meaning is blurred, where their disintegration is taking place and yet, at the same time, they are open. The traces left by Rolando are thus of the essence; they send us to the poetic dream or after-image which unites all the aspects of the exhibition with the book.
Stelle is a poem, a meta-collection of various poetic forms which appear as drawings, rebuses, dancing figures, musical notations and photographs, but also as poetic prose and other forms connected with poetry. The book is structured around a map of the skies which Rolando handles freely, referring to eighty-eight constellations with symbolic meanings conditioned by religion, myth and culture. She speaks of them anew and in her own, unique way. It is also a record of a 'journey' through time, place and language in search of a new, 'amatory' form which perpetually adapts but, in the end, will ever remain elusive.
Curator: Katarzyna Krysiak
Choreography and dance for the video created in collaboration with Mikołaj Mikołajczyk
Bianca Rolando's Stelle is published by the Biuro Literackie publishing house, in collaboration with the Foksal Gallery and the Mazovia Institute of Culture. Publication date: 11.03.2019.