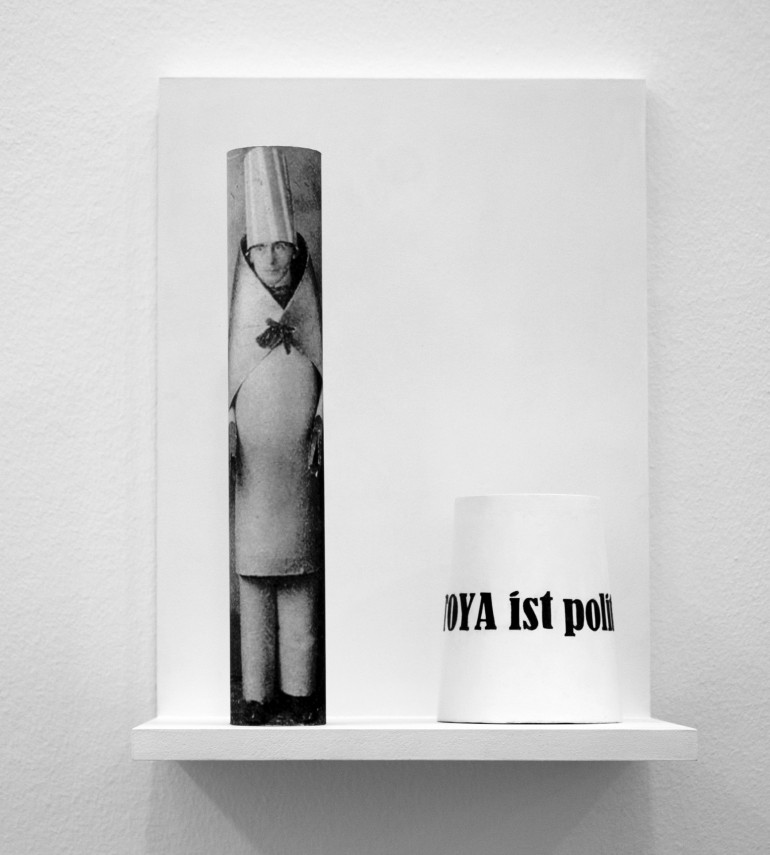 Autopis. Notes, Copies and Masterpieces
November 5, 2010
Opening: 5.11.2010, 6.00 pm
8.11.2010 – 31.12.2010
Curated by Michał Jachuła
In her exhibition at the Foksal Gallery, Autopis. Notes, Copies and Masterpieces, Anna Ostoya reflects on avant-garde concepts in art from the early 20th century to the present. In her paintings, collages and sculptures, the artist questions the authority of historical narratives. She reconsiders and stresses the role of women within the avant-garde, and analyses both central and peripheral phenomena in historical and geographical terms. Ostoya employs a pseudomorphic method, which entails the pairing of visually similar elements such as portraits, archival images and artworks as a creative apparatus to forge new interpretations and associations. The exhibition highlights the politics of the historical avant-garde, its critical weight and its goals for social betterment. The 'autopis' of the title is a word originated by Anna Ostoya reflecting her ideas and her yearning for experimental thinking that underlies the project and her work.
It is important to note that this self-reflected project is being presented at the Foksal Gallery, the history of which spans four decades, and is an example of an unprecedented avant-garde attitude in Poland. Ostoya's exhibition raises a number of pressing questions: To what extents can the attempts at engaged thinking about the present and the future act through art? What dangers are inherent in the institutionalisation and in the commercialisation of the arts? What kind of present-day exclusions operate in our socio-cultural context?
The leitmotif of Autopis. Notes, Copies and Masterpieces is the conviction that creative activity, which continues the avant-garde attitude, presupposes a risk and a burden of failure. Ostoya claims that this failure, however, should not lead to apathy and conforming sentimentalism, but ought, rather, to be perceived as a factor which encourages further activity transgressing the stereotypes and social codes that limit us to what is deemed culturally acceptable and imaginable.
Anna Ostoya (b. 1978) studied in Paris, Frankfurt, and New York City, where she currently lives and works. Her exhibitions include Manifesta 7 in Rovereto, Italy  (2008), the Athens Biennale (2009), Lisson Gallery in London (2009), Car Projects, Bologna (2009) and Kronika CCA in Bytom, Poland (2010).
This project has been realised in collaboration with AIR Laboratory, Centre for Contemporary Art Ujazdowski Castle in Warsaw, with the financial support of the City of Warsaw. The exhibition will travel to the Tegenboschvanvreden Gallery in Amsterdam (January 8 – February 19, 2011).