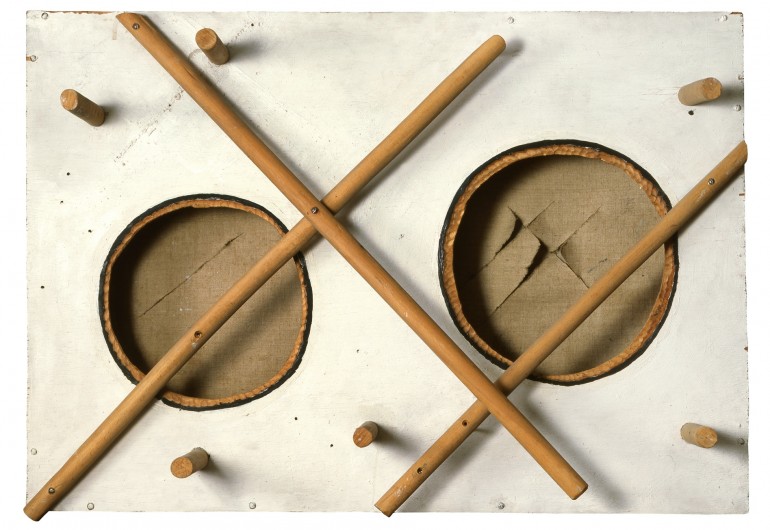 The Pruszków Paintings
August 26, 2008
Opening: 26.08.2008, 6.00 pm
27.08.2008 – 26.09.2008
Curated by Jaromir Jedliński
In The Pruszków Paintings exhibition Koji Kamoji presents a group of paintings created in the 1960s, when he was living in Pruszków together with his family. As he himself relates, at the time he faced many adversities as a father and husband but also, or rather primarily, as an artist. In that grey Pruszków reality he produced such works as Tęcza (Rainbow, 1965) and the cycle Na ścianę świątyni (For the Temple Wall, 1964/1965).
These have never been presented at a single exhibition as a collection. Some have been kept by the artist in his studio, others were made available to us by public and private collections. Like all Koji Kamoji's works, they were created in a state of intense concentration. Both in form and in the ideas they stand for these works are extremely modern and represent the very essence of the artist's attitude towards art. Kamoji employed reduction and synthesis to create these abstract paintings and used natural materials such as wood, linen, metal and stone, which are characteristic for his work. Moreover, these paintings display a sparing use of colour, sophisticated simplicity and a mutual interpenetration of the aesthetic of the western culture within which Kamoji lives with that of his native east.
Also in the metaphysical, spiritual sense these works are a synthesis of nature, sensitivity, elusiveness but at the same time of a great power. They are a synthesis of the artist's entire creative process, his physical and mental work, a synthesis of the creative idea that he follows, the idea of making visible that which is invisible. Kamoji once wrote that for him it is vital to directly experience air and space, both in art and in life. His "gouged paintings" are a tangible manifestation of the harmony between those two elements.
Koji Kamoji was born in Tokyo in 1935. He has been living and working in Poland since 1959, currently in Warsaw. He has presented his works mostly in the Foksal Gallery, which he has collaborated with since its inception. Koji Kamoji has held solo exhibitions at Foksal Gallery, Warsaw; Museum of Art in Lodz; CCA – Ujazdowski Castle, Warsaw; Upper Silesian Museum, Bytom; Kunstmuseum Kloster Unser Lieben Frauen, Magdeburg; BWA, Lublin; Galeria 86, Lodz; Galeria Hanny Muzalewskiej, Poznan;  Potocka Gallery, Cracow; Starmach Gallery, Cracow; Andzelm Gallery, Lublin, and others. He has also participated in many international exhibitions. Kamoji pursues painting and installation. As he himself puts it, his paintings are created in a state of concentration and epitomize that state. The first installation made by the artist at Foksal Gallery in 1972 was entitled Air – Interior –Space. His aim was to create a tangible space in such a way that the viewer could continue to experience it after leaving the gallery, also in everyday life. Many of Koji Kamoji's subsequent installations have carried the same idea.