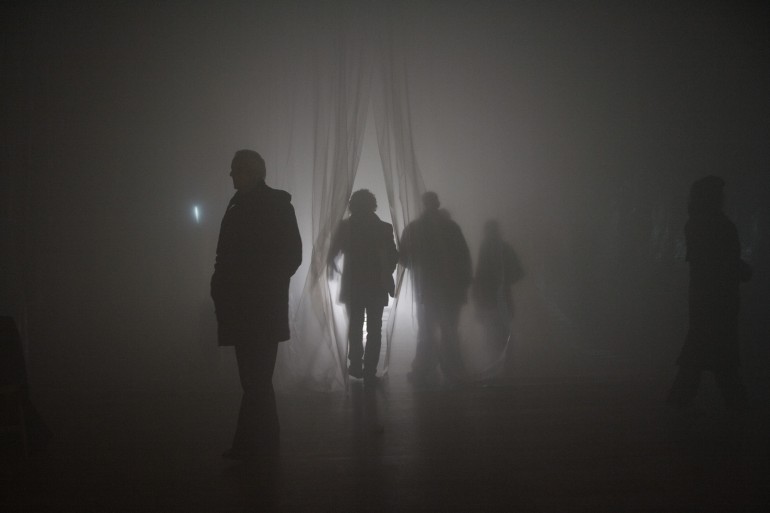 While still we live…
February 23, 2008
Performance
WHILE STILL WE LIVE…
Christian Boltanski, Jean Kalman, Franck Krawczyk, Angelika Markul
Start: February 23rd  2008 r.,  at 5 p.m. till 9 p.m.
Place: Reduta,  10 Bielańska Street
Tickets: 5-10 zł at the Foksal Gallery since February 11, 2008
Galeria Foksal is mounting an exhibition by the internationally acclaimed French artist Christian Boltanski and a performance conceived by Boltanski together with his Franco-Polish partners: scenographer Jean Kalman, composer Franck Krawczyk, and installation artist Angelika Markul. The opening and the performance are scheduled for February 2008.
Especially for Galeria Foksal, Christian Boltanski, together with his Franco-Polish collaborators, has conceived the performance WHILE STILL WE LIVE… whose title refers to the first lines of the Polish national anthem. The performance will be a poetic composition invoking universal history and individual memory through minimalist scenography and music composed especially for the occasion. Theatrical effects and lighting will be used to create a dreamlike atmosphere in which the action of the performance, not following a logical plot but based on reiterations of its sequences, will be played out.
The four artists have previously collaborated on a number of projects including O MENSCH shown at the 2003 Festival d'Automne in Paris, and PLEIN JOUR shown at the Théàtre du Chàtelet in Paris in 2004. The project they are developing for Galeria Foksal will partly be a tribute to performer and painter Tadeusz Kantor, a great innovator of the theatre and one of the founders of Galeria Foksal.