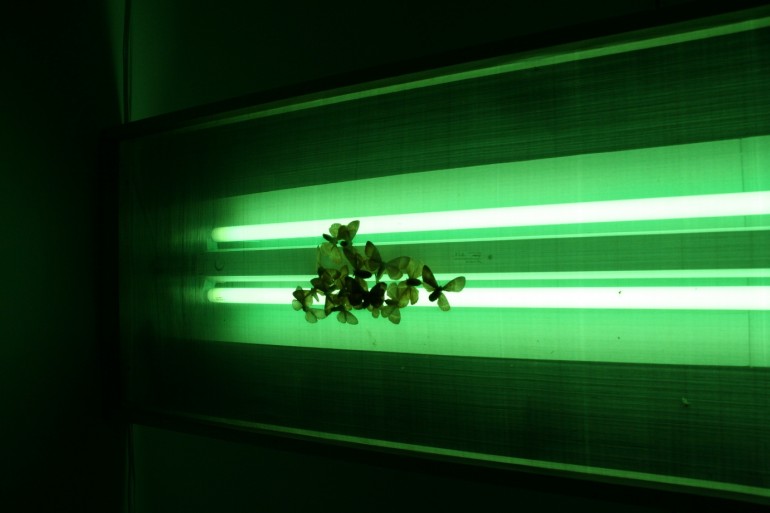 Fly's Dream
June 13, 2006
Opening: 13.06.2006, 6.00 pm
14.06.2006 – 28.07.2006
Curated by Katarzyna Krysiak
Cooperation: French Embassy in Poland, French Institute in Warsaw
Despite the young age the artist is very active and creative. Video, which she usually uses in her work, is a medium that enlivens worlds created by her. She uses not only some dried insects, sawdust, flour, lumps of sugar in her work, but also she makes up some plastic masses which imitate organic substances or even living organisms. With their help she creates veritable situations seizing with stuffy atmosphere of fear, insecurity and mystery.
The presentation, which is prepared by Angelika Markul for the Foksal Gallery, is composed of two video projections united with sculptural installation. The artist intends to introduce the audience into a mysterious space penetrating with restlessness, bringing to mind an old, abandoned warehouse from the suburbs of a big city, ruled over by the forces of nature. Angelika Markul would like to show the world, which exists near by, but which we hardly perceive.
Angelika Markul (born in 1977 in Szczecin, Poland), whose work we wish to present to the Warsaw's audience, in 2003 graduated from a Christian Boltanski's multimedia studio at Ecole Nationale Superieur des Beaux Arts in Paris. She assisted in some of Boltanski's artistic projects. In 2003 – 2004 gained International Post-graduate degree from Ecole Nationale Superieur des Beaux Arts in Paris (E.N.S.B.A.). In 2002 – 2003 completed the Seminar Introduction to the exhibition directed by Christian Bernard.
During the last two years she took part in many personal and group exhibitions in Europe, for example in 2005 / 2006:The Pantagruel Syndrome, T1 Torino Triennale Tremusei – Castello di Rivoli, Museo d'Arte Conteporenea, Torino;  in 2005: J'en rêve, Fondation Cartier in Paris; I still believe in miracles, Museé d'Art Moderne de la Ville de Paris (her video installation is integrated into the Museum's permanent collection), in 2004 she presented her video works within the project: The Annual Parisian All-nighter (Nuit Blanche).