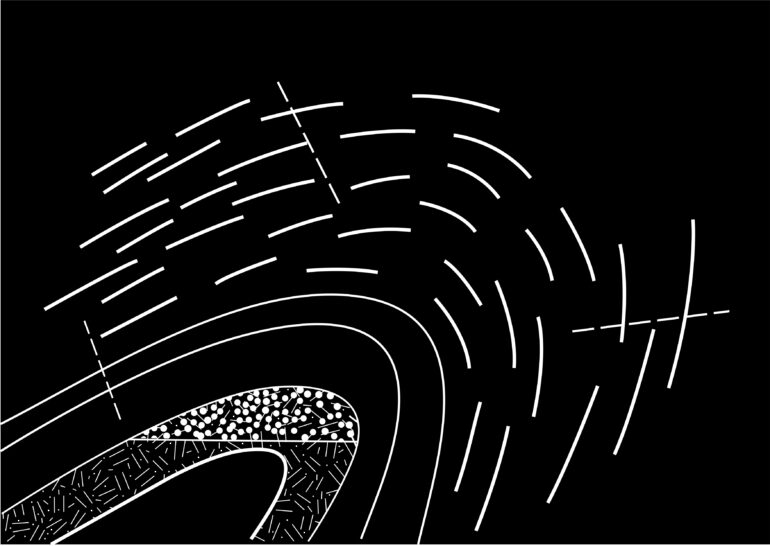 Shelley Odradek, Strange Attractor
November 18, 2022
Opening day of the exhibition: November 18th, 2022 from 6 pm
Duration: Sat. – Sun. (19/20.11) – from noon – 6 pm
Guided tours:
19.11 at 16:00
20.11 at 16:00 with translation into PJM
curator: Martyna Stołpiec
STRANGE ATTRACTOR is constructed on the premise of baroque as an operative function: of recycling and weaving, of emergent ornament despite lack of fixed position. Archive-as-organism, distortion-as-necessity. Is it substance or is it decoration? Is it bone or is it flesh?
Reality is negotiated. And it is perceived and ordered through bodies that age and decay. Linear life cycles stuffed into nonlinear structures presents a clash of logic. Only certain bodies fit.
The internet intensifies these material and conceptual negotiations, but also liberates us from the confines of the body. Digital, supra-physical connectivity stretches, extends. It creates possibility for entangled time and space, for multiplicity, for slippage and impurity.
A fold, a hack, a contaminated, deterritorialized subjectivity becomes flows, bends, curves, choreography.
The rectangular logic of online/offline reality organizes signs and desire, symbols and translation, language and power. However thick the lines of the grid – windows – beds – screens – city blocks – smartphones – headstones – books – bricks – there is always potential for intimate exchange in the rupture. The keyboard molds to my fingers, the membrane interprets my voice and externalizes the ideas/thoughts/images/questions that are held within my body, which seeks connection. Patchwork labyrinth, polyphonic sound, dispersing of physical space. Sometimes hybrid reality is the only reality.
_______________________________________________________________________________
In October 2020, Katie Zazenski and Ola Andrzejewska were invited as artists-in-residence to participate in a month-long seminar at the Center for Contemporary Art in Warsaw. From a constellation of 17 mothers, Shelley Odradek emerged. Shelley is individual, collective, embodied, virtual, internet and material. A rhizomatic body critically engaging in digital_social ethics, exposing power dynamics, and performance of self; operating primarily through the lenses of architecture, psychoanalysis, philosophy, contemporary art, border-crossing, and community-building.