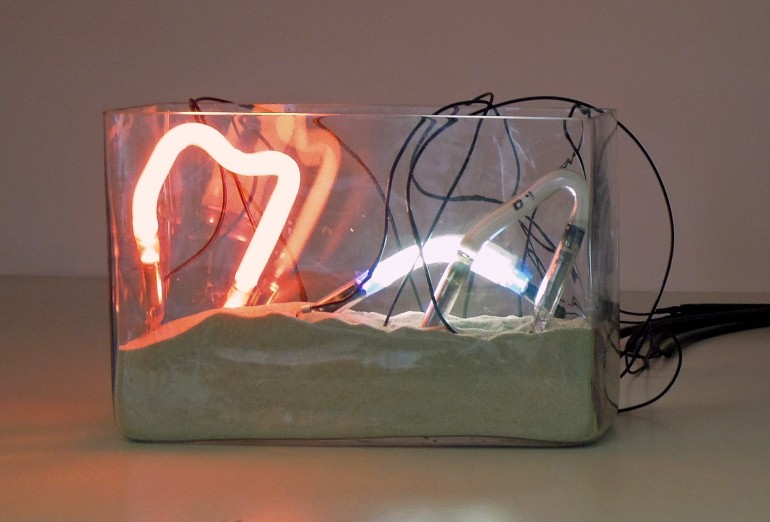 A PLACE. Scene 3. Robert Maciejuk, Leon Tarasewicz, Włodzimierz J. Zakrzewski
May 19, 2016
Opening: 19.05.2016, 6pm
Exhibition runs till 17.06.2016
Curator: Lech Stangret
In a third installment of the cycle, more artists including Robert Maciejuk, Leon Tarasewicz and Włodzimierz J. Zakrzewski were asked to make an artistic commentary upon the concept of "place". Taking into account that their creative debuts coincided with rather important caesurae of Polish art history, 1970s (Zakrzewski), 1980s (Tarasewicz) and 1990s (Maciejuk) respectively, one might risk a claim that they represent three distinct generations of artists. Although they used different forms of artistic message in the past (from installation to film), the fact that they remained painters is a connecting factor.
Scene III mini-cycle of cognitive exhibitions based on creators' autonomy of choice and their presentations in the context, as has been indicated in the title, notion of "place". However, it is necessary to mention that neither exhibition space itself, nor even Galeria Foksal's premises in their entirety, were primary determinants of aforementioned "place". Each of scenes, exposing associations between reflection and artistic concrete, was supposed to come as a surprise both for curator, and for artists who participated in it. Nevertheless, idea for a show created by three artists working within classical "white cube" formula, on white-painted walls, in a space isolated from its surroundings, demanded strict cooperation between all organizers of the exhibition. Almost classical "place for seeing art" did not allow – which seems quite strange – to employ all the simple solutions and multipled problems rather than reducing theim. They concerned not only balanced, harmonic and aesthetic dimension of the whole show, but also some important historical connotations.
Galeria Foksal's history spells out endless struggle with "place" reserved for exposing works of art. It also means countless attempts at shaping exhibition space so it could meet the requirements put forward by contemporary art which defines manners in which it is being presented for quite some time now. Thus, "scenes" realized in rather traditional form (although this was not always the case) should not be reflected upon in terms of retention of these processes.
In all three cases, artists decide to show their works in the same space which is left unaltered, even with colour of the wall paint remaining intact. They decide to address the problem of place identified with a specific room in their particular ways. This way, Galeria Foksal became a sort of palimpsest with outline of content that has been inscribed earlier, being partially visible today. However, exhibitions do not provide answer to the question whether this place of a certain tradition and history should remain such a palimpsest which next generations of artists will find hard to remove. Maybe it should assume the guise of a "third place" of Oldenburg's theory, a place which will be frequented by artists, critics and art amateurs on a neutral ground and out of home (first place) and job (second place), in a regular, informal but also predictable, manner.
In a contemporary art world, when galleries often switch their sites, sometimes even relocating to other cities, where name, trademark or logo matter more than regular "place", it is worthwhile to ask artists whether "place" still retains any meaning for them. Liquidating "place" is quite easy, it is so much harder to preserve it, while reanimation or resurrection after many years appears to be practically impossible.
The project was made possible by the suport of City of Warsaw