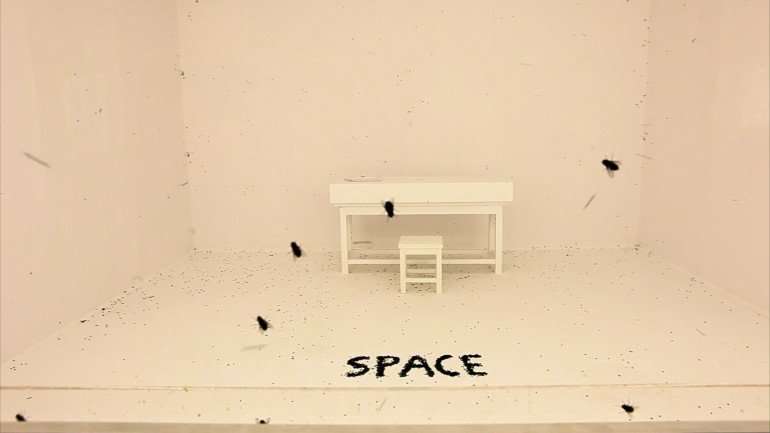 How to explain performance to living flies
July 3, 2009
Opening: 3.07.2009, peformance: 12.00-8.00 pm
6.07.2009 – 31.07.2009
Cooperation: Sarmen Beglarian
Dominik Jałowński (b. 1981, Lublin) is a painter and performance artist. He defended his diploma thesis in Krzysztof Wachowiak's studio at the Warsaw Academy of Fine Arts' Faculty of Painting. He lives and works in Warsaw.
He has created several performance pieces to date, including Like this, or like that and Flesh Fresh, at the Aspect Gallery under the eaves of his alma mater. He appeared at the European Performing Arts Festival EPAF 2008, held at Warsaw's Centre for Contemporary Art in Ujazdowski Castle, and at the 2009 International Performance Art Festival, which took place at Galeria Arsenał in Białystok. He has exhibited several times in collective exhibitions, including The Memory of this Moment from the Distance of the Years, shown at the former Schindler Factory as part of the 17th Festival of Jewish Culture in Krakow (2007) and Art in Uprising at the Mazovian Centre of Contemporary Art Elektrownia in Radom (2008). He also created one of the murals to be seen at the Museum of the Warsaw Uprising (2007).
The title of Dominik Jałowski's performance, How to explain performance to living flies, is a travesty of Joseph Beuys' famous 1965 piece, played at the Galerie Schmela in Düssledorf, How to explain pictures to a dead hare. As the artist wrote of his performance, The concept of explaining something to an animal is provoked by a sense of the mystery of the world and of existence within it and this mystery appeals to the imagination. At the same time, as I've already said, even a dead animal acts with more intuitional skills than some people do, with their persistent rationalism. (…) The problem lies in the word 'understanding' and its myriad meanings, meanings which cannot be restricted to rational analysis. Imagination, inspiration, intuition and desire lead people toward a sense that there are other levels which have their role to play in understanding. [Joseph Beuys, Texts, commentaries and interviews, compiled by Jaromir Jedliński, Centre for Contemporary Art, Warsaw 1990, pg. 49.]
What Dominik Jałowiński undertakes in his work is a perverse play on the conventions of performance art. He attempts to strip away the weight of grandiloquence from a genre usually acknowledged as coming from the far extremes of individualisation, hermeticism and ambiguity. At the Foskal, he is shut inside a white cube. The figure of the artist, explaining the meaning of the action to some flies as they circle around and around him, can only be viewed by the public via a small window. And it is thus the flies which are, in fact, at the audience of his performance. In this work, modelled on Beuys, Dominik Jałowiński accents the role of imagination and intuition in both the creative process and the reception of contemporary art. The results of Jałowiński's work will be presented at the Foksal Gallery in the form of a month-long installation.