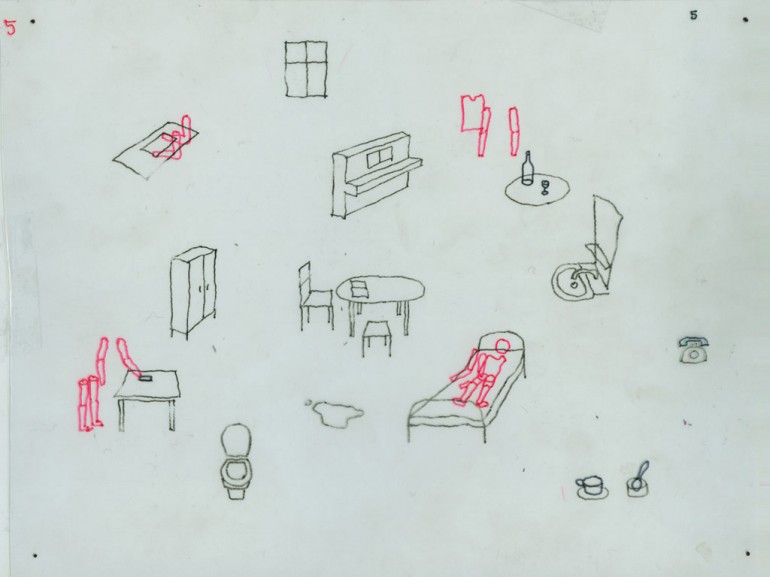 Bars and Clocks
December 7, 2009
Opening: 4.12.2009, 6.00 pm
7.12.2009 – 15.01.2010
Cooperation: Michał Lasota
Piotr Bosacki's individual show, Bars and Clocks, will present the artist's latest film, together with two of his earlier works. This juxtaposition aims to underscore an essential attribute of the Poznań artist's work; his love of structure for its own sake. Bosacki meticulously constructs the 'principles' by which his films are organised. As he himself states, Structure fulfils the function of and here.
Therefore, regardless of their outer dressing, be it whittled down to a greater or lesser extent, Bosacki's films are, in fact, abstract compositions. The organisation of the elements in my films concerns the film image, in other words, graphics in time, he says. However, the geometric concepts upon which they are based also contain within themselves the potential for existential metaphor. Explaining his work, Bosacki frequently resorts to 'down-to-earth' analogies, as the questions he poses appear to be very close to our everyday experiences. Although Piotr Bosacki also composes musical works, all three films presented at the exhibition are devoid of sound, an ostensible paradox, since his music is also centred around formal problems, albeit deliberated in a separate space. This very division perfectly underscores the seriousness of his search.
In his films, as in his music, artist sets fundamental problems in motion, problems which may lead to simple questions; how does 'it' work? How is 'all this' organised? Thus Bosacki's creativity is an expression of a fundamental wonder at the world and the principles underlying the way it runs.
And this same quality is present in a unique Bosacki project, his book, Traumtagebuch. A compilation of literary miniatures inspired by his own dreams, it abounds in philosophical reflections derived from everyday observations. Overflowing with humour, yet substantively serious, this 'diary of dreams' will also be shown at the Foksal exhibition.
Piotr Bosacki (1977) lives and works in Poznań. His work involves animated films and musical composition. He is a member of the PENERSTWO group and  is involved in Galeria Stereo.