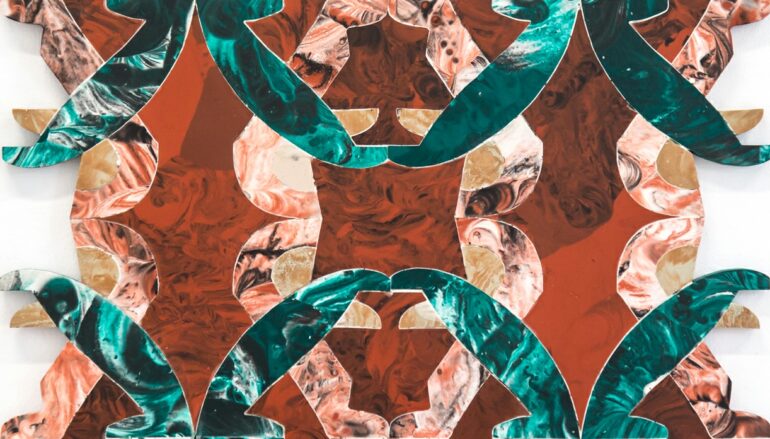 Szymon Szewczyk, Tears in My Eyes
June 25, 2022
Szymon Szewczyk | Tears in My Eyes
Opening: Saturday, June 25th, 2022, 4pm – 8pm
June 25th – August 20th, 2022
Curator: Katarzyna Krysiak
The exhibition will include works made with polymer mass using the intarsia technique, which Szymon Szewczyk has been implementing in his art for many years
The intarsias will show dancing characters, bodies in motion, some more simplified than others. Their figures can bring to mind religious or shamanic rituals. In terms of form, the artist draws on motifs from historic iconography, but we will not find direct or straightforward references to any of them. The artist simply uses certain conventions, which allows him to create timeless objects that mimic museum collections.
The title of the exhibition is a reference to the 80s hit song "Dancing With Tears in My Eyes" by the British band Ultravox, where dancing is shown as a way of escaping thoughts of an imminent disaster. What's important is the dissonance between the joyous act of dancing and the chilling fear of impending doom. In this work Szymon Szewczyk also references the tradition of contemporary protests and demonstrations that take the form of street raves. By doing that, the artist attempts to present a synergy between older representations of the human body and the modern, cultural power of dancing.
Szymon Szewczyk (1989) – audiovisual artist, stage designer, graphic designer. He graduated from the Academy of Fine Arts in Katowice. He is interested in the relationship between humans and their material and non-material surroundings, looking for obscure connections between seemingly unrelated phenomena, conspiracy theories, creative stopgaps, temporariness, cheap materials, DIY, information overload, suspicious scientific articles, stupid jokes, dead seriousness, trash, imitation, interference, errors, madeup rituals, domesticated exoticism, doubting the systematic knowledge about the world.