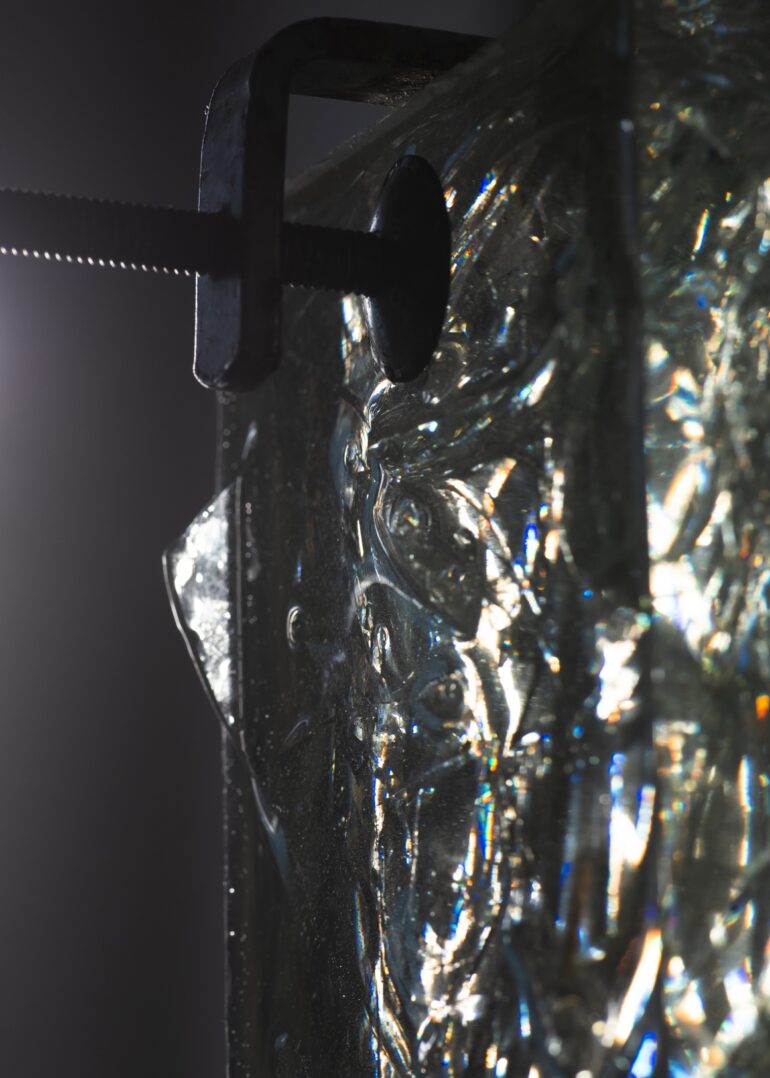 Wojciech Puś | Jerzy Tabor, Total Fucking Darkness
May 21, 2022
Opens Saturday, May 21, 2022
Dates: May 21 – June 11, 2022
curator: Katarzyna Krysiak
The "Total FuckingDarkness" environment (light/animation/sound) is the realization of a dream of peacefulness and sensitivity. It is not anexhibition of artworks. We arecreating a place whereyoucanrevisitwhatyoulong for.
publication:
cassette tape, edition of 49, with a series of slides
A side:    QA (questions/answers | queer abstraction) – 20'51"
B side:    TFD (total fucking darkness) – 8'47"
The works of Wojciech Puś combine an experimental film aesthetic with elements of light installations and video projections, which gives them a cinematic quality. He creates spatial installations, utilizing moving pictures, distinct lighting and soundtracks (often on vinyl). His latest projects include: the "Queer Landscapes" series (premiered at the Rencontres Internationales Paris/Berlin festival in Louvre and Haus der Kulturen der Welt in Berlin), "Nonrecognition" (with Pat Dudek and Jerzy Tabor, Museum of Modern Art in Warsaw), "Endless – Music for Performers" – a record of improvised music published by Bocian Records, as well as a series of cinematographic performances: "Endless: Day as Days / Night as Nights" and "The wind connects us" at the Museum of Modern Art in Warsaw, curated by Natalia Sielewicz and Paul B. Preciado. In 2018, as part of an exhibition curated by Katarzyna Krysiak, the Foksal Gallery published his art book titled "Endless | The Diary", a mosaic-likerecord of real and imagined events from the production of the movie "Endless", which the artist categorizes as a queer abstraction that expands the experience of transition, in a broad sense, to more universal, existential, individual experience. The publication has been shown at the Benaki Museum in Athens and Aperto Raum / Erika Hoffmann Sammlung in Berlin, among others.
…
Jerzy Tabor – animator, he studied anthropology at the University of Warsaw's Institute of Polish Culture as well as animation and special effects at the National Film School in Łódź, with a final exhibition at the Signum Foundation Gallery (2022). His works have been shown at the Museum of Modern Art in Warsaw (his film "Nonrecognition" was included in the 2020 online exhibition "MSN Home Office. Intimacy as Text", curated by Natalia Sielewicz), the Xawery Dunikowski Museum of Sculpture – a branch of the National Museum in Warsaw (lighting installation/animation titled "The Kiss", which was part of a concert titled "At Dawn", curated by Ania Miczko and Krzysztof Bagiński, 2021), Łódź Fotofestiwal (an essay in the "Infinity" publication and a series of works on silk as part of the "Infinity" spaceat the "Re:Incarnation" exhibition curated by Józef Robakowski, 2021). Tabor's graphic works have been published in the "Wormhole" publication (Kunstakademie Düsseldorf, 2020), "Infinity" (Fotofestiwal / PWSFTViT in Łódź, 2021) and as a series of unique covers for the "Nonrecognition" music album. He has created animations and projections for plays staged at the National Stary Theatre in Kraków. He has created his own animation interventions and visual effects for the movie "Endless" and the series "Queer Landscapes" (directed by Wojciech Puś, premiered at the Musée du Louvre, Paris, and Haus der Kulturen der Welt, Berlin as part of the Rencontres Internationales festival, 2021).