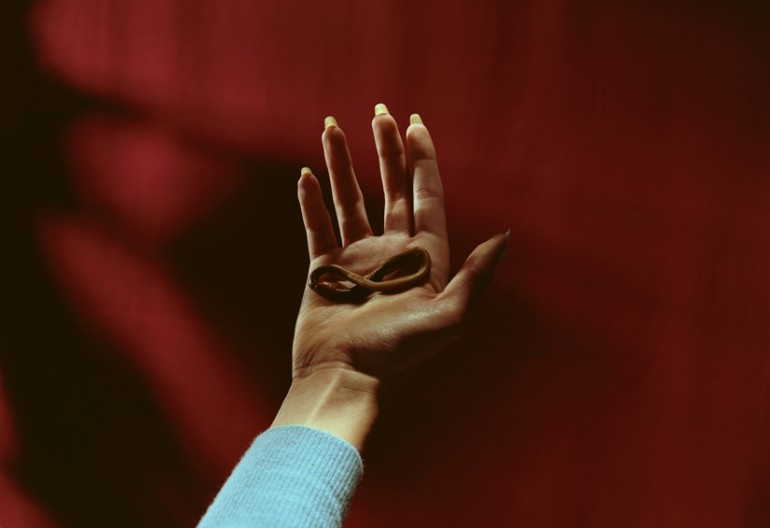 Bownik, Crystal up to the Neck
December 23, 2014
Opening: 14.11.2014, at6pm
Exhibition runs until 16.01.2015
Curator: Justyna Wesołowska
Bownik's latest project, Crystal up to the Neck, has been created especially for the Foksal Gallery. The artist has taken the cinematic aesthetics of the 'golden age of Hollywood', the nineteen-fifties, as a means for speaking, in reality, of the shift in thinking about time which can be observed in the contemporary world. Accustomed to a linear concept of time, we are facing a generation which questions, in a wholly naturally fashion, the notion of 'topicality'. Nowadays, we have no inhibitions about describing everything we deem useful, every image, every aesthetic we 'borrow' for whatever it is that we are working on, for our own vision of reality, as 'topical'. By way of justification, this aesthetic eclecticism, this formal licentiousness often deliberately carries a minor imperfection or falsehood within it.
In Crystal up to the Neck, Bownik focuses on objects. It is in them that he discovers the properties which have come to dominate today's thinking about the world. In these works, fetishes appears as a sarcastic synonyms for youth, which, like the earthworm stuck to sticky tape, dreams of the impossible, in other words, of infinity.
Crystal up to the Neck is as disturbing as the control the artist exerts over his medium. Animate and inanimate elements submit to his vision with a similar docility. Dogs at rest on dead boars, boars floating on colourful carpets … in Bownik's photographic images we seek in vain for a foreground. The eye, wearied with diversity of form and compositional grounds, searches on for familiar motifs. It consents to accept the displacement, the deliberate departure from the canon, in order to remain within a recognisable reality, unaware that the artist's manipulations have changed reality for it for always.
Born in 1977, Bownik is a graduate of the Poznan Academy of Fine Arts, now the University of Arts. His best-known cycles of works include Gamers, E-Słodowy (E-Malt), Friends and Disassembly. His works have been shown at numerous collective exhibitions, such as Lucim żyje (Lucim Lives), with Marcelina Gunia, at the Centre of Contemporary Art in Toruń (2009) and As You Can See. Polish Art Today, at the Museum of Modern Art in Warsaw (2014). His most recent solo exhibitions both took place in Warsaw; Every Imitation Disappoints, at the Starter Gallery (2013) and The Urn for the National Library at the Krasiński Palace (2014). His book entitled Disassembly, published by Mundin, won the Grand Prix in the 2014 Photographic Publication of the Year competition, as well as winning nominations for the Kassel Photobook Award 2014. His works are held in such collections as the Huis Marseille – Museum voor Fotografie in Amsterdam, the ING Polish Art Foundation and the holdings of the National Library.