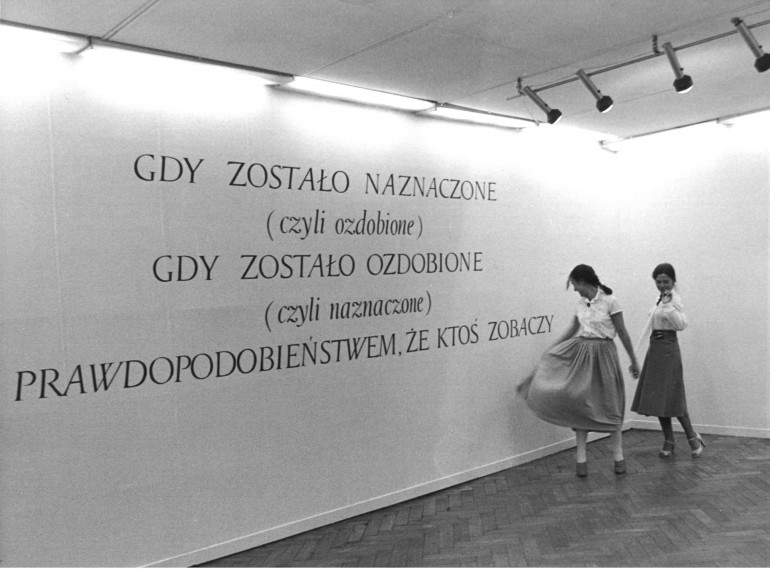 WITH A PROBABILITY OF BEING SEEN. WORKS, PROJECTS AND DOCUMENTS IN THE COLLECTION AND THE ARCHIVES OF THE FOKSAL GALLERY
November 15, 2013
Opening: 15.11.2013, 6.00 pm
18.11.2013 – 3.01.2014
Curated by Michał Jachuła, Katarzyna Krysiak, Justyna Wesołowska
The title of the exhibition echoes that of Lawrence Weiner's solo exhibition at the Foksal in 1979, while the exhibition itself is a subjective overview carried out by three curators on the institution's history and its present place in the international and Polish cycle of art.
The show encompasses selected holdings from the Foksal's collections; works which originated in response to invitations to exhibit at the gallery, as well as catalogue and exhibition designs, publications and archival materials in the form of photos and documents. It includes works by artists such as Artyści Anonimowi, Mirosław Bałka, Robert Barry, Krzysztof M. Bednarski, Ben, Jerzy Bereś, Christian Boltanski, Daniel Buren, Tomasz Ciecierski, Stanisław Dróżdż, Druga Grupa, Joel Fisher, Zbigniew Gostomski, Koji Kamoji, Tadeusz Kantor, Anna Beller, Edward Krasiński, Robert Maciejuk, Daniel Malone, Marzena Nowak, Anna Ostoya, Jadwiga Sawicka, Mikołaj Smoczyński, Henryk Stażewski, Andrzej Szewczyk, Leon Tarasewicz, Zygmunt Targowski, Lawrence Weiner, Krzysztof Wodiczko, Honza Zamojski.
In presenting this sizeable group of works and archival materials, the curators endeavour to examine the organic concepts written into the Foksal's history, concepts such as 'institutional memory', 'place', 'archive', 'documentation' and 'programme', as well as the works of the people who have collaborated with the gallery over the course of five decades.
Contemporary readings of texts which were written in the Foksal milieu and are now classics in the fields of art history and history are of particular significance in the context of the exhibition. They include such writings as An Introduction to the General Theory of PLACE (1966), What Do We Dislike About the Foksal Gallery PSP? (1969), The Living Archive (1971) and Documentation (1971).
Broadly speaking, PSP, Pracownia Sztuk Plastycznych, which translates as the Visual Arts Studio, was a monopolist distribution company which assigned commissions for art works ordered by state companies during the communist era – translator's note.