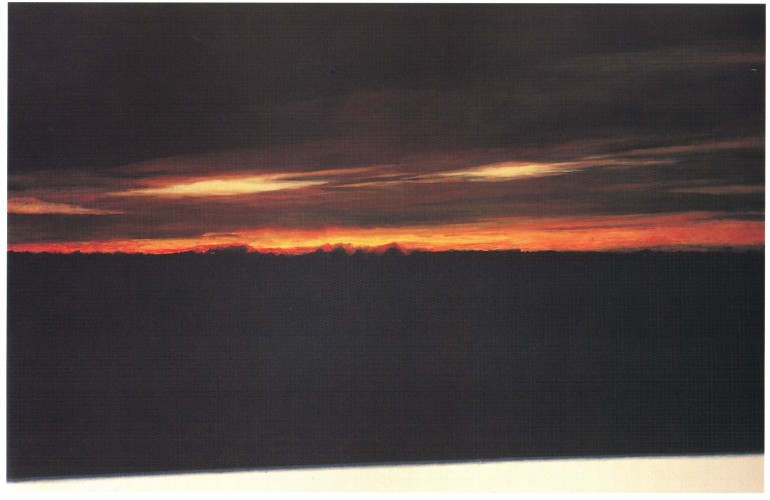 Zbigniew Gostomski
May 11, 2017
Opening:  Thursday, May 11, 2017, 6pm
Exhibition runs till June 167, 2017
Curator: Lech Stangret
Zbigniew Gostomski, part of a small group of artists – founders of the Foksal Gallery, is presenting his oldest as well as most recent works in the exhibition. The drawings in the exhibition appear to be separated from the sculptures as well as image painted on the wall by many decades, but only seemingly. The admirers and experts of his work will, however, find it easy to see that there is no randomness in this juxtaposition. There is only a new "state of things" in a new context, which depicts the most characteristic features of Gostomski's oeuvre through a synthetic expression.
The five drawings, drawn with graphite pencil on paper in 1955 during a holiday spent on Puck Bay by the then young artist, (with full size replicas onto canvas without any retouching) act as a prelude to the gilded sculptures set on a neo-Rococo table in the main hall. The windmills in the drawings, or rather their disintegrating skeletons, are accompanied by sketches portraying images of houses or, more accurately, electrified rural huts. Electrification – being one of the focal points of the Stalinist Six-Year Plan (1951-56) – changed the hitherto Kashubian landscape, which can be seen in a drawing showing tangled masses of cables atop a utility pole.
A drawing, reduced to lines, of geometric figures and planes, will also be discernible in the large hall. It is present in the sculptures and painting on the wall. The two gilded sculptures were created on the basis of a drawing by Gostomski from mid-1965. Therefore, the temporal dividing line between an art student's debuting works and the works of the mature artist is not so prominent. The picture painted directly on the wall, on the other hand, is yet another version of the work from the 1990s.
All these works are connected by the idea – emblematic of the art of Zbigniew Gostomski – of returning to the problems and motifs outlined earlier; creating new qualities and new contexts, whose foundations are rooted in discovering values not fully utilized prior.
The exhibition inside Foksal Gallery is accompanied by a catalog designed by the artist as well as an interview conducted in 2012 by the curator – Lech Stangret with Zbigniew Gostomski.